The dining room is the heart of the home; it is where the whole family breaks apart from their busy lives to eat and talk and share stories about their day. But an abandoned dining room can leave you feeling despondent. Is your dining table in need of some love and attention?  Have you taken to eating off plastic trays in front of the telly? It's time to make a start on your perfect winter retreat ready for the coming cold season. Here's our top tips for putting life back into your dining room and giving it the makeover it deserves!
Couldn't Chair Less
Add a touch of glamour to your dining room with classic upholstered chairs. This season's trend is all about vintage charm and sophisticated styles which can be easily achieved with even the slightest of improvements. Great chairs can make even an old table look classy and add comfort and warmth to your room.
Hide and Seek
Hide away all that clutter with a stylish sideboard that will give you tons of space and make your dining room seem bigger and brighter. This is a perfect place to store all your overflow kitchen items such as glasses and plates or a secret place to stash your chocolate supply!
Full Circle
Round tables are back in fashion and not just for Arthurian Knights. The table is the centre point of your room and the immediate focus of any new guest. Round tables combine elegance with practicality and are much more space efficient than square ones. The rounded edges means that the table can fit into small spaces and does not cause much restriction in terms of seating arrangements.
Brick by Brick
Modernise any dull wall with artwork that captures the feel of your home. These botanical art pictures are bang on trend and will provide your room with character and ambiance. Make your walls a talking point with pictures, transfers or hangings.
Light Up Your Life
Add light to a dark and dingy room with a trendy lamp that will give life to your room. Dark rooms often look smaller than they really are due to shadows. Open up those spaces by positioning lamps at key areas and be amazed by how much bigger your dining room really is!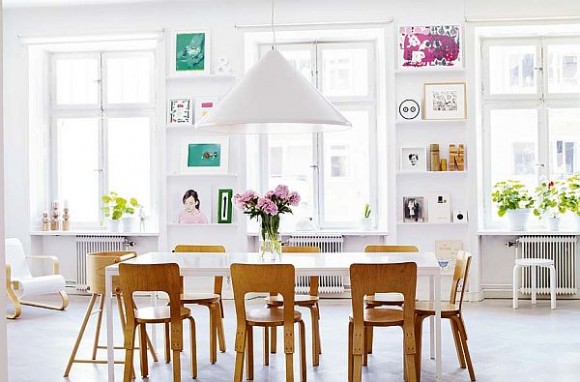 Just a few simple steps could transform your dining room and add soul to your home.
For more inspiration on improving your dining room, see here.