We've all heard how essential your home's 'curb appeal' is, but your choice in front door could say a lot more about you than you might think. So, what kind of homeowner are you?
Traditional Wooden Door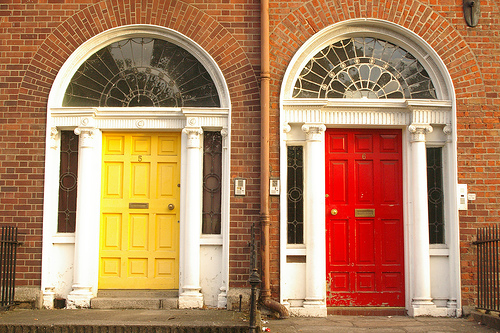 Usually found on older homes, wooden front doors aren't so common in new build areas, so the chances are you gravitate towards houses with original features and plenty of character. Wooden external doors require a fair amount of upkeep and need painting, staining or varnishing, as well as sealing, to help them look their best.
Homeowners who are willing to put in the work to maintain a wooden front door are typically house-proud people who enjoy reaping the benefits of living in a lovely house. The chances are you're happy pottering around your home and garden, making sure everything is in its place before sitting back to enjoy your space.
Fibreglass Door
Ideal for homes located in areas where the weather can be volatile, the fibreglass door is extremely hardwearing. Available in numerous textures and colours, fibreglass doors can even be stained to mimic the appearance of wood, without the labour intensive maintenance.
If you've chosen a fibreglass door for your home, you're likely to lead a busy lifestyle, yet you still want to return to a home you're proud of at the end of a busy working day. A quick wipe at the weekend with some soap will keep a fibreglass front door looking its best, leaving you to enjoy your time off and appreciate the lovely home you've worked hard to create.
uPVC Door
Cost efficient and durable, the uPVC door is generally cheaper than a traditional wooden door over time, and is a popular option for those on a budget. As first-time buyers are more likely to put an offer in on a home with a uPVC door, there's a good chance that this is your first home, and security and functionality were amongst your top priorities. If you're not a first-time homeowner, it's likely that you're concerned with keeping your bills down, and the humble uPVC door was the ideal choice for helping to insulate your home.
uPVC doors are extremely low maintenance, so you're likely to have an extremely busy lifestyle with no time for wiping down a front door as part of your chores!