For many the Costa del Sol is all about the excess and buzzing nightlife in Marbella. Magazines are full of the latest nightclubs and bars to go to in this haven for Z-list celebrities and reality TV stars.  However, there is a very different side to the Costa del Sol, full of charm and places where you truly can get away from it all. 
The Bohemian Beach Club – Senora Beach Club, Estepona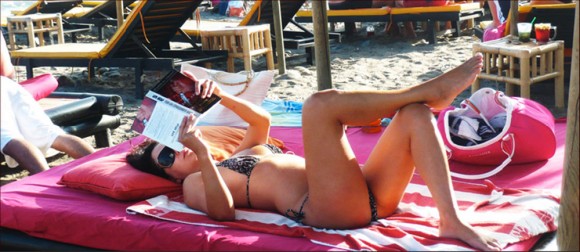 If the super-busy and super-expensive beach clubs in Puerto Banus and Marbella don't float your boat head down to Sonora Beach in Estepona for a more laidback vibe. The beach club is based on the more chilled out bars found in Thailand and Indonesia where you can laze around on comfortable sofas and huge cushions and soak up the sun whilst listening to reggae or funk. The beach club is open from breakfast time and serves tasty, healthy food right through to the evening.  DJs appear in summer and there is even a boutique selling clothes made especially in Bali for the owners. This has all the coolness and none of the pretence of the beach clubs in Marbs!
Visit Marbella's Old Town
Way before Marbella became the party capital of the Costa del Sol it was, and still is, one of the most attractive and historical towns on the coast. In the middle of the Old Town you will find Orange Square or 'Plaza de los Naranjos' which is surrounded by lovely little cafes and restaurants. Sit and enjoy a traditional Spanish lunch and smell the wonderful aroma of the orange trees all around you.  The architecture in the Old part of town is stunning with buildings dating back to the 15th Century and you can find out lots about the town's history just wandering around this lovely area.
Find a Hidden Bodega to Dine in
Resorts like Marbella, Fuengirola and Benalmadena all have hundreds of restaurants serving modern cuisine from every country imaginable but finding a traditional Spanish Bodega hidden down a narrow street in these towns always makes for an authentic and enjoyable Spanish experience.  Bodega La Solera in Fuengirola is just 150 metres from the main promenade in the centre of town, yet you feel like you have walked into another world when you step inside. The famous Iberian hams hang from the bar, barrels of Rioja line the walls and flamenco plays throughout the restaurant.  Another great thing about finding these places, so popular with locals, is that the prices are very cheap. Make it your mission to discover a hidden gem while you are on the Costa del Sol!
Costa del Sol Accommodation
Panoramic Villas have a great choice of holiday homes on the Costa del Sol that allow you to explore this wonderful coast, whatever your budget or requirements. Whether you want to party in Marbella or have a relaxing break by your private pool.