Remember the cartoon "The Jetsons" and how everything in the house was just a button push away? Well, today's smart homes look more and more like a futurist cartoon. Cook, clean, and listen to music at the touch of a button or the sound of your voice.
Smart Security
Keep your home safe and secure with smart camera security systems. The wireless and weatherproof units offer sirens, USB connectivity, motion activated notifications, and two-way audio. Pair the security system with smart locks, and you can allow your guests entrance to your home. Smart locks also recognize your smartphone and know when you are approaching and unlock doors.
Smart Thermostats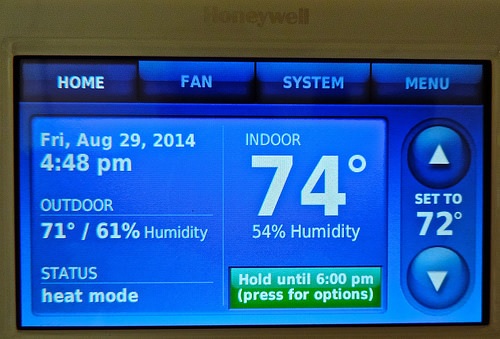 Image via Flickr by nordique
The first programmable thermostats allowed you to pre-program your temperatures for the day, but if you forgot to set it you were out of luck. Today, smart thermostats program from your smartphone, so you don't have to worry about forgetting. Turn the system on, off, or adjust the temperature from anywhere.
Smart Lights
Control your home lights with a smartphone app. Turn lights on, off, or dim them plus change the colors all with the push of a button. When you're gone, the lights still go on and off just like you were there. And when the mood is right, dim the light and add a soft color glow. Some lights even sync with music to give you the perfect atmosphere.
Smart Ovens
Hate to cook? You have an alternative. Smart countertop ovens equipped with Wi-Fi, cameras, and artificial intelligence weigh, cook, and check foods without your help. Just pop in what you want and the oven will tell you the food and ask you to select how you want it cooked. Smart ovens cook fish, meat, vegetables, and even frozen waffles.
Enjoy freshly baked food but don't have the time? The smart baker products do everything from measuring to baking. Just follow the app, add ingredients, and the machine does the rest. A built-in scale measures the ingredients.
Do you like to grill but don't like standing out in the heat? Now, outdoor grills let you control the temperature and cooking from an app then tells you when the food is ready. For a great barbecue, fill the smoker box with wood chips and let it handle the hot work.
Smart Cleaning
Robo vacuums are nothing new but the latest models work better than ever. Cameras navigate the unit, and smartphone apps let you see detailed cleaning reports and maps of where the machine went. The robo mop dry or wet cleans your floor areas. And these robotic wonders hook up to voice controlled hubs like Amazon Alexa and Google Assistant.
Smart Outdoors
Robots work outside too. Robo lawn mowers follow a perimeter you program, then mulch the clippings back into the ground so no bags of cut grass. Sprinkler systems both talk to your smartphone and know when it's raining and shut off. And if you have a pool, robot machines take the work out of cleaning it.
No more longing to be a member of the Jetsons family. The future is now with smart technology that help your home take care of itself.