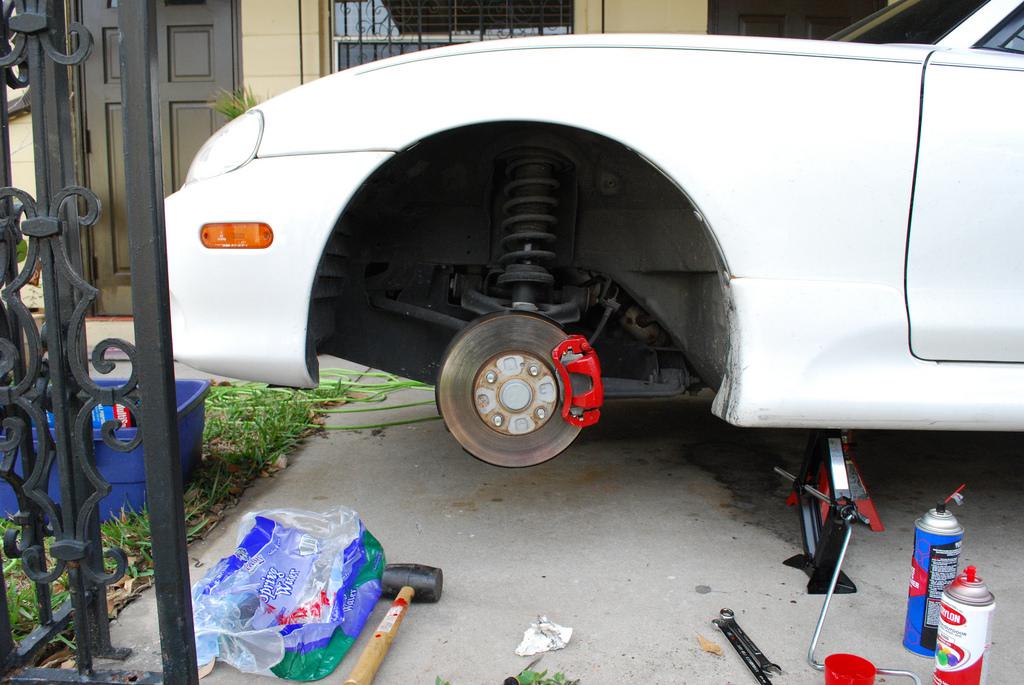 If you have to name one boring part of your car, then that would surely be brake calipers. These dull, dusty and often rusty calipers are never a good addition to a customized top-notch vehicle. Brake calipers are created keeping their function in sight, hence not much of attention is given to its appearance, but nowadays looks are as much important as functioning; from selecting the stylish suit for ourselves to picking the right vehicle components, we all keep contemporary trends in sight. With the growing trend of modern, sleek and customized wheels, untouched brake calipers will give a slight ugly look to a bespoke car. A little paint job is all what it's required to give your wheels much needed oomph and set your car apart from other vehicles on road.
Properly painted calipers further highlight the style of your rims; so accentuate your style by renovating calipers. You can either go the DIY way for this or take the help of a professional. Here both the options are discussed and how much they both cost in their respective process and the difference they'll make to your vehicle.
DIY Caliper Painting Cost Details:
From planning budget-friendly weddings to lowering costs of traveling; people are always on finding ways to cut the cost and upgrade their lifestyle while saving some bucks. DIY brake caliper painting is also one extremely cheap way to upgrade your vehicle as compared to professional paint job. A bit technical but not complicated at all; you just have to be cautious while removing calipers.
Things that'll be required for this job are these:
Wax and grease remover
Brake caliper paint
Sandpaper or Wire brush
Safety gear
Caliper cleaner
All these caliper painting essentials will cost you around 30$. But if you don't have caliper removing tools and protective gear like mask, gloves, etc in hand, they'll cost you few more bucks. For those fellas who want to avoid the hassle of buying stuff separately, there are several caliper paint kits available in the market, go get them. These will cost you around 50$. Following are some high-rated kits which incorporate all caliper painting essentials, but you still have to buy cleaning supplies, like wire brush or cleaning solution, separately.
G2 Caliper Paint Set: This paint set has one mixing can, an aerosol caliper cleaner, a stirrer, an application brush and a color decal.
Duplicolor Caliper Paint Kit: It comes with one pint of caliper paint, stir stick, paint brush, caliper aerosol cleaner, masking tape.
POR-15 Caliper Painting Kit: This kit includes wax and grease remover, caliper paint, rust-preventive paint, metal prep, safety gear like gloves, mask, foam brushes, masking tape.
Steps to Paint Calipers:
If you are taking the plunge and have decided to paint your brake calipers on your own, then follow these simple to execute steps to get the job done.
Step 1: Remove calipers from the wheels, but keep them attached to the brake line and properly cover rest of the surface to avoid paint splash.
Step 2: First remove the dust and dirt with a clean piece of cloth. Then clean the rust, brake residue, grease and grime with help of the wire brush or sand paper and a cleaning solution made up of rubbing alcohol.
Step 3: Spray the brake caliper paint and make sure to reach all the corners and hard to reach place. 3-4 coats of color should be applied. Let the paint dry before applying next coat. For extra finish, hold and gloss, add a clear top coat.
Let the calipers dry for 24 hours before reattaching them and you are done with your modified brake calipers.
Professional Caliper Coating Cost Details:
Feeling a bit reluctant towards doing your calipers on your own? Professional caliper coating is there to help you, but this option is way more expensive as compared to the cheap cost of DIY. But high cost guarantee premium results; it's hassle free, you won't have to worry about detaching and reattaching calipers, it's durable ad provides professional finish.
Just get a little insight into the cost of this professional upgrading.
Professional painting – $225-$400 (depending upon the color selected for painting)
Powder coating – $240- $600 (color and number of pistons used will determine the final cost)
Labor cost for removing and re-installing calipers – $120
Powder coating can't be done with brake lines still attached, therefore labor cost of removing calipers adds up and it'll cost vehicle-owner around $240 – $900, with factors like new or used calipers, paint color, number of pistons, etc having a say in it.
Summary:
Painting calipers give a bespoke and upgraded look to your vehicle whereas it has several other benefits too, like it protect calipers from corrosion or rusting, enhance the overall appeal of the car, increases life of calipers and are easy to clean. Professional painting is quite expensive and can cost you around 900$ depending on your choice of color or paint. Whereas DIY is pretty cheap and can be done under $50. So, if you're feeling bold and ready to take the challenge then select the DIY route, else you should think about professional help to avoid ruining your car.