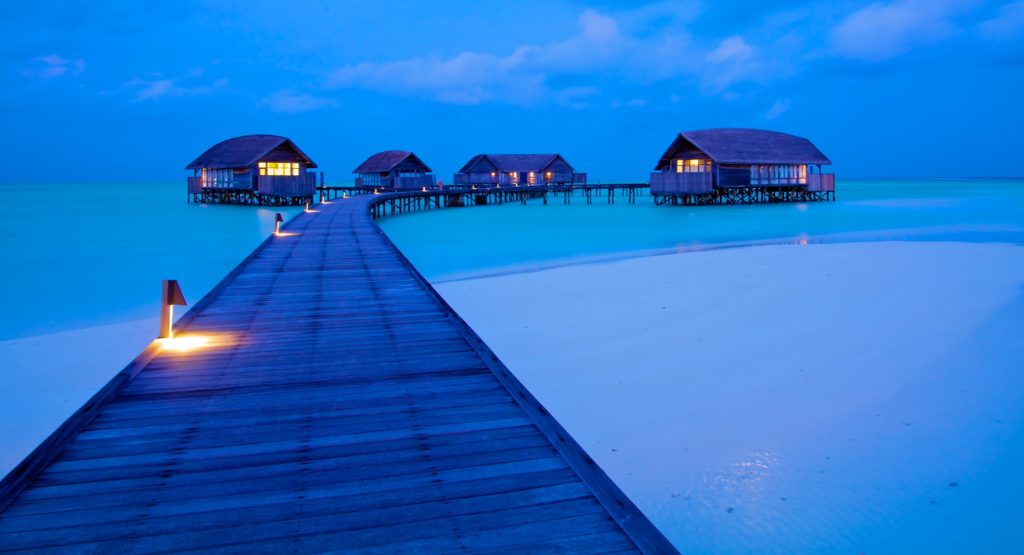 The Maldives is a South Asian island chain of twenty-six atolls and 1,192 islands (200 inhabited), situated in the Arabian Sea and southwest of India and Sri Lanka. Comprising a territory spanning roughly 298 square kilometres, the Maldives is one of the world's most geographically dispersed countries, as well as the smallest Asian country by both land area and population, with a little over 393,500 inhabitants.
Some say the Maldives are the most beautiful small islands on Earth and based on the amount of tourism the islands have seen over the past 40 years and the fact that it is one of the most tagged places on Instagram, this sentiment appears to be strong and even growing.
The water is a crystal clear turquoise and just made for picture taking in this romantic tropical vacation paradise with plenty of sunshine and temperatures around 30°C throughout the year. But the Maldives are more than just palm trees, turquoise reefs, white sandy sun-kissed beaches, and light blue seas, it is also a place full of personality.
Reasons to Visit Maldives
Honeymoon
The Maldives is known to be one of the best honeymoon destinations. Because each resort sits on its very own island, a Maldives honeymoon is exclusive and secluded and as close as it gets to newlywed heaven. A quick ride by seaplane and you'll step ashore on a private white-sand beach that's completely away from it all. Crystal clear lagoons, vibrant coral reefs and palm-fringed beaches come as standard, while candlelit dinners under starry skies, and customized benefits packages make for an extra special start to married life. The world famous overwater villas are particularly popular with honeymooners. These villas on stilts provide direct access to the ocean and are the height of romantic. Your honeymoon will be all about relaxing and decompressing after the fury of the wedding. Your only chore is preparing to relax big time in paradise.
Scuba Diving and Snorkeling
The water in the Maldives is among the best for diving in the world. Clear and warm with temperatures hovering between 82 and 86 degrees invites bunches of exotic fish. Scuba Diving around the Maldives has recently become hugely popular among the diving community because the hundreds of isolated and deserted Islands offer an enormous playground for divers to explore. Between the Islands, there are plankton filled channels connecting the Indian Ocean to the Lagoons, which attract an incredible marine life including some not seen in many other places. These include:
Manta Rays are one of the Maldives most famous attractions and one of the few places on Earth where you are guaranteed to see them during your trip. These majestic animals can grow to an amazing 8 meters in length and weigh up to 2,300 kilograms.
Beautiful and docile Whale Sharks can grow up to ten metres in length and weigh 9 tonnes. All divers long for the day when they can go swimming with them. Well the Maldives offers them in abundance.
26 Shark Species including Hammerhead, Whitetip and Tiger sharks can be found in the Maldives, so they offer a rare and truly exciting experience for divers. With the crystal clear water, divers get to clearly see these beautiful animals in their own habitat and as close up as they like. Of course some sharks can be dangerous so divers need to take proper precautions.
World Class Resorts
Of the Maldives 200 inhabited islands, about 105 islands are developed as tourist resorts. A tourist resort in the Maldives consists of an exclusive hotel on its own island approximately 800 by 200 metres in size and composed of sand and coral to a maximum height of about 2 metres above the sea. In addition to its beach encircling the island, each island has its own house reef, which serves as a coral garden and natural aquarium for scuba divers and snorkelers. The shallow water enclosed by the house reef also serves as a large natural swimming pool and protects swimmers from the ocean waves and strong tidal currents outside the house reef. The buildings on a typical resort includes guest rooms and suites, restaurants, coffee and gift shops, lounges, bars, discos and diving schools. Most resorts offer a wide variety of activities such as aerobics, volleyball and table tennis. All resorts in Maldives arrange daily excursions or day trips to other sand beaches, picnic islands, or resorts.
With all of these amazing benefits available year-round, I bet you never knew you had so many great reasons to visit the Maldives. So come on over to paradise!