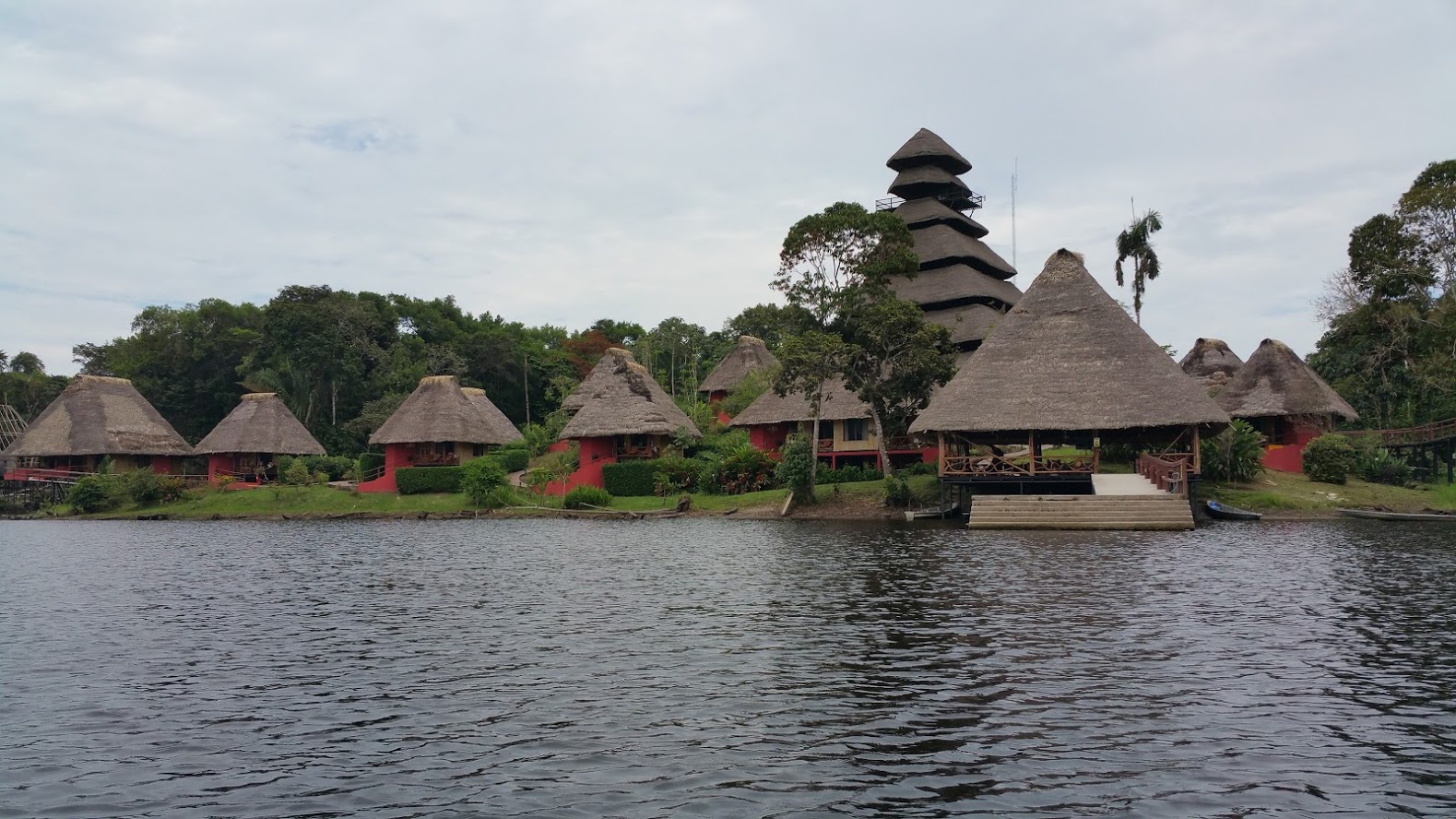 If the vacation you seek is a luxury trip to the Ecuadorian Rainforest, the Napo Wild Life Center may be exactly what you are looking for. Ecuador and Galapagos Insiders recommended this trip to us, explaining that Ecuador's Yasuni National Park would offer a wide variety of jungle wildlife to enjoy, while not having to rough it, at all. We felt doubtful – I mean, not at all? It seemed like an unlikely proposition, but we decided to give it a shot. They were right. It was luxurious in every aspect, down to the finest detail. If jungle luxury is what you seek, this is the place for you.
The Napo Wild Life Center considers itself to be the "most luxurious lodge in Ecuador's Amazon," and on visiting it, it is very easy to see why. Arriving at the lodge was quite literally a breathtaking experience. After gliding down the river in our canoe, the thatched roofs and tower of the communal area could be seen in the distance, emerging from the thick forest surrounds. We were welcomed as we arrived, and escorted to our room, which can only be described as opulent. There was plenty of space, and the furnishings were exquisitely designed. We settled in, but were too excited to spend much time in the delightful room, and instead eagerly explored all features of our new surroundings. We were not disappointed, as we realized we had been lucky taking the recommendation of Ecuador and Galapagos Insiders to come to the Napo Wildlife Center, in the Ecuador Amazon.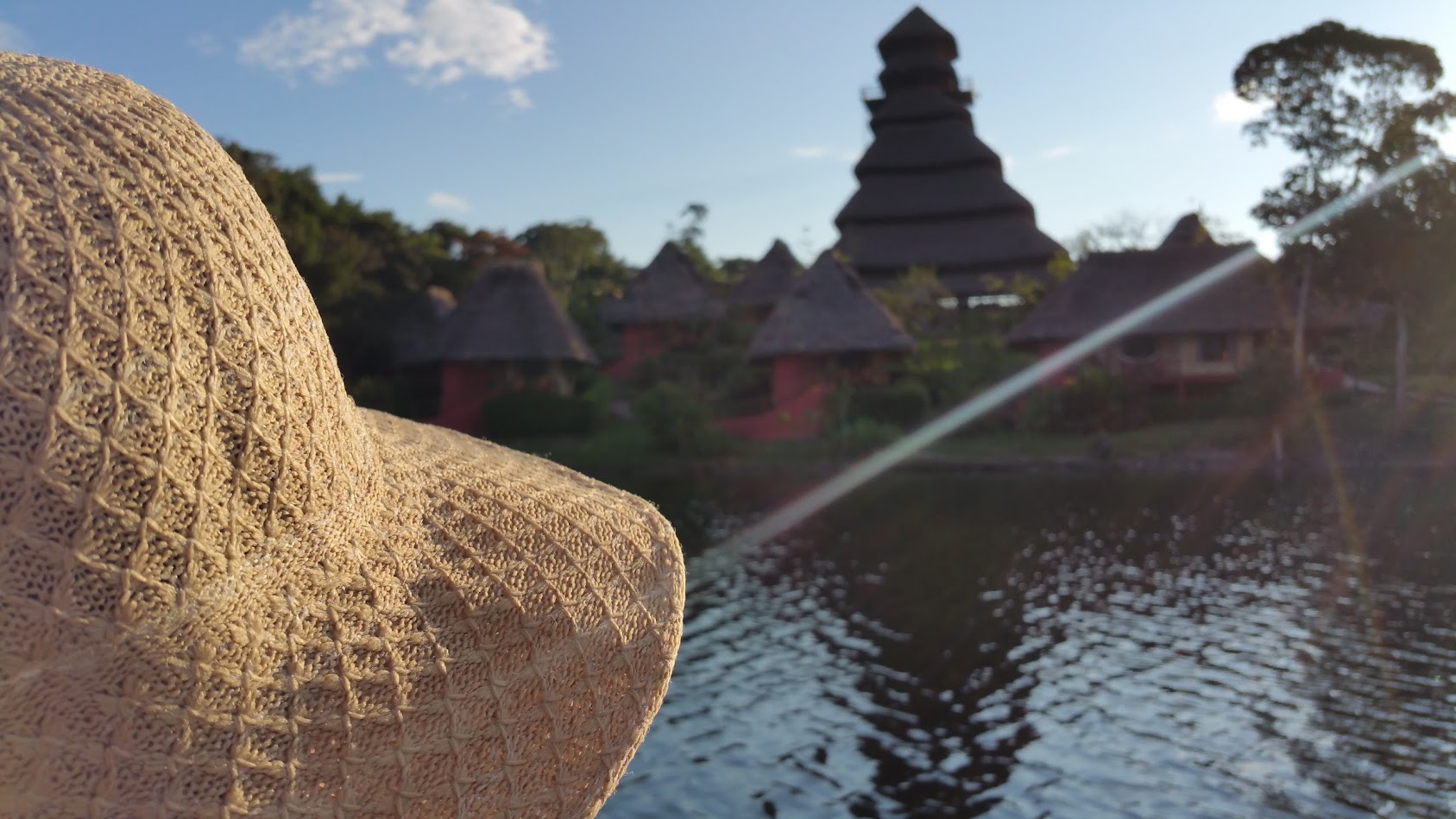 Such luxury in the Amazon jungle does take a bit of a while to get to. There is a 2.5-hour motorized boat ride from the Amazonian city of Coca along the Napo river, before boarding paddle canoes for the last section. This part almost put us off from visiting, but that would have been a big mistake! Actually, the boat ride was one of the most enjoyable aspects of our visit. The motorized boat was very comfortable, and we thoroughly enjoyed the scenic trip, with both village life, and remarkable flora and fauna to observe all the way. We spotted a giant otter almost as soon as we pushed off in our paddle canoe, the guide silently gesturing to us, so we could take a photograph quickly before the creature slunk off into the undergrowth.
Napo Wild Life Center is extremely well appointed, and to our surprise, there was even a library! With just 16 rooms, the place never feels crowded, which added to our sense of luxury on this trip. One of our favorite parts of our stay was ascending the 20 foot high observation tower. This offers spectacular views of 360 degrees across the forest in all directions. When we weren't up the observation tower, binoculars practically glued to our eyes, we were out and about on jungle adventures that the lodge arranges. This gave us the chance to get up front and personal with the remarkable jungle wildlife that abounds in this area. One of the trips we most enjoyed was that to the parrot clay lick. Here, to our surprise, scores of beautiful green parrots, macaws and parakeets were found feeding on the minerals in the soil located there. This trip was further enhanced by our visit to the KichwaAnangu community, where we learned about life in the heart of the Ecuadorian Amazon, and observed local customs and activities.
Another wonderful highlight of our luxury trip to the Ecuadorian rainforest at Napo Wild Life Center was our morning searching out a wide variety of wildlife species. We observed various types of monkeys, bird, insects, reptiles and mammals. Of course, there is no guarantee of seeing any animal or bird, but here, deep in the jungle, there is an excellent chance, as good as anywhere. Our highlights of this day were watching an anaconda slithering along the bank of the river, as it prowled for food, and three caimans at different points hunting silently in the water. Their beady eyes felt as if they were boring through us, as our guide skillfully paddled by.
Each day our eyes feasted on colorful sights and exotic birds and animals that you might only otherwise get to see in captivity. Seeing them in the wild like this was something else. In the morning we enjoyed a sumptuous breakfast, followed by a morning adventure both in and out of the boat, enjoying wonderful new experiences, and taking copious photographs. We'd then have a relaxed delicious Ecuadorian or international lunch, cooked and served by the talented staff, before a rest and then heading out on the boat again. The evenings were a time of more feasting and reflection on the day behind us, and excitement for the day ahead.
In the Amazon, you are in nature's domain, though at times it feels surprisingly unlike it! In the jungle the natural world often takes control, and we learned that power cuts are a feature of Amazonian life… but not through experiencing one ourselves. As Ecuador and Galapagos Insiders informed us, Napo Wild Life Center in Ecuador has silent power generators, and we appreciated this very much during our stay. No worrying about being able to charge the camera battery ahead of the next day's adventure, and a continual ceiling fan, whirring to keep away the pesky mosquitos.
On our last day, we were equally sad to leave the lodge as we were excited to get back on the canoe to see if we could spot a jaguar prowling or a tapir trotting along the river bank. As we glided away from this very special place, in the heart of the Ecuadorian Amazon we both reflected that we could never have anticipated such a wonderful week in the jungle in such a flawless and beautiful, well-kept lodge. Ecuador and Galapagos Insiders recommended Napo Wild Life Center to us, and I'm glad that they did. I am certain we will remember this remarkable experience for the rest of our lives.
Shruti Gupta is a writer, marketer and outreaching expert .She writes about technology, startups & other niches. She has contributed to a number of famous websites like Thenextweb, Deccanchronicle and Crazyegg. Stay tuned with her at:@shruti_gupta01 or via Skype : shrutigupta2811