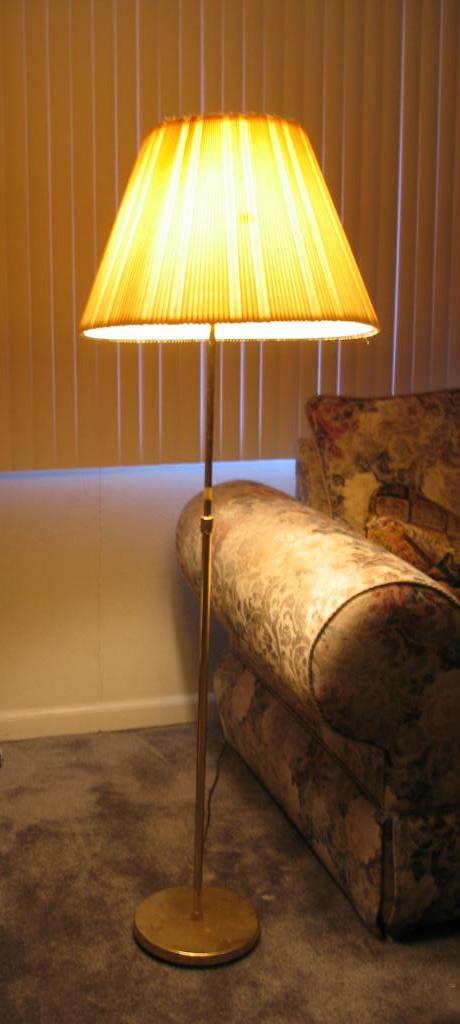 Photo by CC user Jiang on Wikimedia Commons
Why has Mid-Century Modernism withstood the decades? Because it's a classic aesthetic. The movement's strong linear lines, playful space-age artistry and animated color palette has fixed itself a secure spot in the design history canon.
Another beautiful thing about Mid-Century design? Anyone can own a piece of it. The purpose of this industrious design movement was to get affordable, quality and modish fixture pieces in the home of every American across the United States.
Here are five enduring and superb Mid-Century modern floor lamps that will transform your living space from second-rate to five-star.
The Fabulousness that is the Floor Lamp
Every house needs good task, accent and ambient lighting. Layering these three lighting sources will make your home feel warm and inviting to you and your guests. Keep in mind however that lighting isn't just about the layering effect, it's about the actual aesthetic of the lamp as well. No matter how beautiful the effect of your layered light sources, if the lamp is ugly, that's where your attention will be drawn. To help you in your interior design quest, you will find a list of five floor lamps below that will up your design game.
RTL-8827 Floor Lamp, Designer: Trans Globe Lighting
Reminiscent of a tree's bending bow, the polished chrome RTL-8827 floor lamp begins with a marble base and ends with a domed shade. The adjustable stem allows the user to modify the lamp's width and height to focus the light where it's most needed; on a great book or your crossword. The simple yet refined style of the lamp will add class and refinement to your space simply by being put near your bookcase or Eames chair.
IC Floor Lamp, Designer: FLOS
Geometry is a main stay of the Mid-Century movement, and FLOS has accomplished this in their design of the IC floor lamp. The slender-armed brass finished lamp supports through the art of a balance a spherical opal shade. This round shade helps to disperse light around the room, giving it a warm, healthy glow.
Arc Floor Lamp, Designer: Regina Andrew
This chrome finished floor lamp uses the sinuous shapes we see in nature to create a flawlessly impeccable and statuesque work of art. The Arc floor lamp stands tall and arcs to form a bell-shape at its top, coming back down to support a dome-shaped shade. The stem of the lamp can be moved from side to side, with a handle that allows you to adjust the height of the stem. Add a dash of sophistication to your space with this practical and purposeful piece.
Ojai Floor Lamp, Designer: Jonathan Adler for Robert Abbey
True to its Mid-Century roots, this angular, 3-pointed tripod-based polished nickel floor lamp takes its name from the Chumash Indian word meaning moon. With a spherical wooden sphere "hanging" in the base of the lamp, the Ojai floor lamp hearkens back to the Mid-Century's space-age creations. Topped with an oyster linen shade, the Ojai floor lamp screams functionalism and style.
Hull Floor Lamp, Designer: NOVA of California
The Hull floor lamp combines natural chestnut wood with industrial brushed nickel to form an organically-shaped eclipse piece. Perfect in the living room corner or next to your favorite chair, the Hull floor lamp is topped with a white linen shade that glows beautifully when turned on. This design piece will complement any design-styled room due to its animate design and cultured look.
One of the biggest mistakes in decorating our home is getting lamps that don't work in the space. Sure, the lamps might produce some good light, but if they're unsightly, the room will always feel off, no matter how well they illuminate the room. Get a lamp that is both voguish and functional, you won't regret it.