https://pixabay.com/en/highway-usa-america-clouds-66-2699542/
If you're lucky enough to have a supercar, you probably want a chance to show it off while enjoying a ride. Whether it's a luxurious and high-performing sports car or the grandest tourer, you have definitely dreamed of the moment when you'll love zooming down those wide roads and enjoy that special time of your life!
With a car like that, you should get it to all the scenic routes, stretches of deserts, and mountain passes you can handle. We'll be introducing you to some of the best roads for supercar roaring below.
1. Chapman's Peak in South Africa
The awesome drive is a coastal highway that twists between the Hour Bay and Noordhoek Bay in the south-west tip of Africa. You get a sweet 9km route with a whopping 114 curves! And almost all of it comes with a great view of the Atlantic Ocean.
Along with coasting your way around the rocky Atlantic coastline, you'll also see some stunning views. Be sure to stop and take in some of nature's beauty because it will be a worthwhile experience to remember.
2. State Road 1
This drive is on a major highway in the north-south of America. It's an enjoyable stretch that mostly runs along the Pacific coastline in the sunny state of California. This can easily be considered among some of the gorgeous coastlines you could hope to find in the U.S. This is one of the reasons why you should book your flight today at Charter Flights to Los Angeles California | Stratos Jet Charters.
In fact, this particular road is known as the All-American Road Highway. You can feel the true experience of being an American while cruising down this region.
The popularity of this road comes from its sheer length (around 90 miles) and the many coastal parks it passes on the way. It also winds between the Big Sur Cliffs and even takes you through a beautiful redwood forest. There are also quite a few historic bridges for your sightseeing passion. This makes it a holistic experience which is not to be missed.
3. Atlantic Road in Norway
What better way to have the drive of your life than in one of the most beautiful countries in the world? The Atlantic Road is only a few decades old, being opened in 1989. It's a National Tourist Route and was named the country's Construction of the century in the year 2005.
This beautiful route stretched to around 5.2 miles and goes between Molde and Kristiansund. These are two major cities in that region. What's unique about the road is that it's constructed on many small islands, skerries, and connected by causeways, bridges, and viaducts.
Be careful when driving here even with a supercar. Auto accident claim – evaluation of your case by Batta Fulkerson is an option to consider if you're left unattended in a car accident.
4. Tianmen Mountain Road in China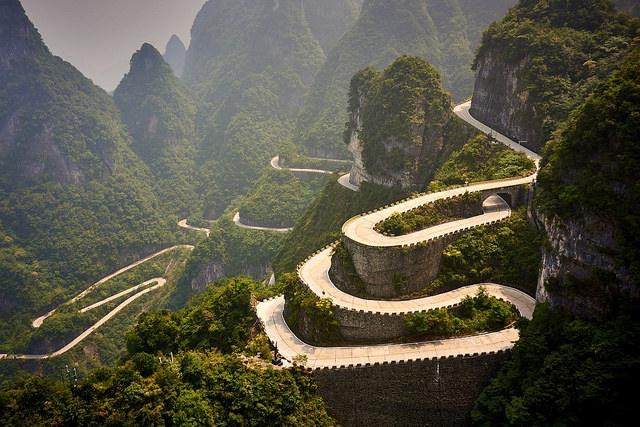 https://www.flickr.com/photos/gameoflight/26271228204
This scenic route is on Tianmen Mountain in the Tianmen Mountain National Park. This is located in the Hunan Province of China. The nearby railway station offers you cable car service for getting to the very top. The length of the journey is almost 7,500 meters and the height you'll be covering is almost 1,300 meters.
What's more, the gradient is 37 degrees. All this makes the 11 km road an excellent space for driving your supercar and checking out the beauty of the area. You can even visit the natural Tianmen cave, which has a height of more than 130 meters.
5. Furka Pass in Switzerland
This is the place you should go for the most adventurous ride with your beloved supercar! The Furka pass is at a whopping altitude of almost 2500 meters. It's located in the Swiss Alps and connects Valais and Gletsch with Uri and Realp.
If you're a fan of James Bond, you should know that this was the location of the film, Goldfinger. This, along with its scenery and adventurous routes, makes it a highly popular choice for tourists and drivers.