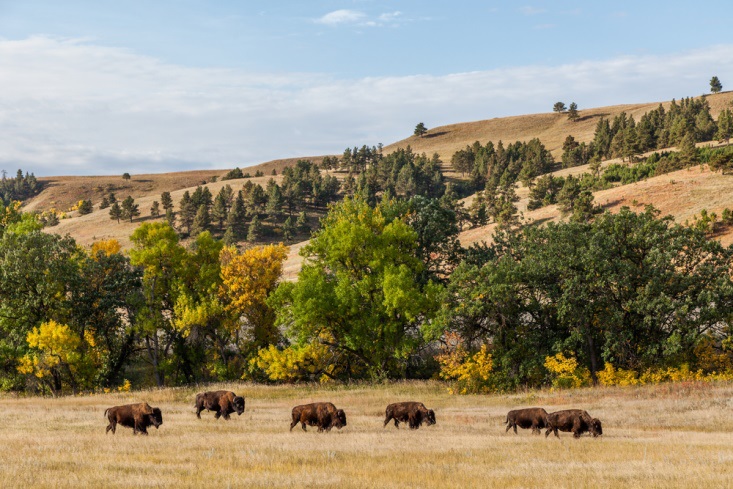 Some people will spend thousands of dollars on complex spa treatments to rejuvenate their bodies, minds, and spirits, but avid campers know that they can find serenity and renewal for much cheaper with a weekend in nature. However, plenty of new campers tend to set their sights on massive national parks that boast thousands of acres of unique beauty. While some national parks are certainly worth a cross-country trek — Yellowstone, for example, is like no other place on Earth — most campers might be just as pleased with excursions they can find closer to home.
Across the U.S., each state maintains a network of state parks to preserve the most beautiful and historic natural spaces within its borders. By camping in a state park rather than journeying to a distant national park, you can reinvigorate your local economy and help sustain the wilds within your home state. For inspiration, here are seven strikingly beautiful state parks to camp in around the country…
1. Little Missouri State Park, North Dakota
Called "Mako Shika" or "Where the Land Breaks" by the Sioux people, the rugged hills of the Little Missouri are a sightseer's delight. Here, the sand and rock have been carefully sculpted by water and wind to form unusual natural monuments that are some of the most beautiful in the Midwest. Nearly all of the park is accessible to visitors, who can traverse more than 29 miles of trails on foot or on horseback.
2. Custer State Park, South Dakota
There are few places in the United States, even amongst national parks, where wild animals are vigilantly protected, and Custer State Park flaunts itself as one of the best. Indeed, campers here will most likely catch glimpses of all sorts of creatures, including elusive elk, mountain goats, and buffalo. Besides wildlife watching, campers can also explore the granite hills in a variety of ways: mountain climbing, horseback riding, biking, and hiking. While hunting is prohibited here, fishing in any of the park's lakes and creeks is certainly encouraged.
3. Hocking Hills State Park, Ohio
Besides native Ohioans, most people might be surprised to learn that the state contains one of the densest forests in the country, preserved in entirety in Hocking Hills State Park. Hocking Hills is home to deep gorges of picturesque sandstone lined with cascading waterfalls. A number of caves make excellent hiking destinations and picnic spots, and other sanctioned activities include fishing and hunting, provided campers bring the proper permits and enough ammo. The park is open during the winter, when visitors can explore the snow-covered landscape and even try out ice fishing.
4. Fall Creek Falls State Park, Tennessee
Boasting the highest freefall waterfall east of the Mississippi River, Fall Creek Falls State Park is a one-of-a-kind adventure. The eponymous waterfall plummets more than 256 feet, but the park is home to three additional breathtaking waterfalls well worth hiking the park's trails to find them. The most popular park in the state, Fall Creek Falls offers various activities to keep campers entertained, including:
An Olympic-sized swimming pool
An 18-hole golf course
A stable with horses
2.5 hours of zip lines
35 miles of hiking trails

5. Palo Duro Canyon State Park, Texas
Texas is a huge state, and with Palo Duro Canyon as evidence, its state parks are equally enormous. More than 120 miles long, up to 20 miles wide, and 800 feet deep, Palo Duro is the second-largest canyon in the country, and all of it is open to exploration by foot, horseback, or even vehicles on the canyon floor. Though regular roughing it in RVs and tents is supported throughout the park, the true beauty is found at the park's stone cabins. Perched on the canyon's rim, these rentable homes offer panoramic vistas of the wide-open Texas country.
6. Slide Rock State Park, Arizona
Arizona is filled to bursting with incredibly beautiful national and state parks; in fact, the state contains the largest municipal park in the country. However, one of the most exhilarating parks within Arizona's borders must be Slide Rock State Park, which is more or less nature's answer to waterparks. The highlight of the park is undoubtedly a red sandstone slide, silky smooth from eons of water erosion, which leads into a refreshing swimming hole and creek. During the hot summer months, this park can get crowded, but the cool water is definitely worth the trip.
7. Lime Kiln Point State Park, Washington
Though this state park on the Puget Sound is only a trifling 35 acres in size, it offers visitors a truly spectacular opportunity: whale-watching. Considered the best place in the world to watch whales from land, Lime Kiln State Park contains lookouts where visitors can see the massive marine mammals breach within 20 miles from shore. While orcas, or killer whales, are perhaps the most exciting finds, minke whales, dolphins, porpoises, seals, sea lions, and otters often make appearances as well.