We left northern England last year in early April, fortunate to miss the barrage of snow, sleet and rain that plagued Durham, leaving as many as 10,000 homes across England's north-east without power. While home was experiencing temperatures as low as 23° Fahrenheit and gale force winds reaching as much as 70mph, my family and I were at the Sharm Resort Hotel in Sharm el-Sheikh, Egypt.
Sharm el-Sheikh lives up to its name; it is Arabic for "City of Peace". This coastal city along the Red Sea is located in the Sinai Peninsula at the most southern tip. My husband and I travelled with our three children, aged four, eight and twelve. We stepped off the plane and were greeted by the subtropical arid climate with a temperature that was warm, but not too hot, of 23° Celsius. Although it was late in Egypt when we arrived at the resort (Egypt is two hours ahead of England), the kids were still raring to go.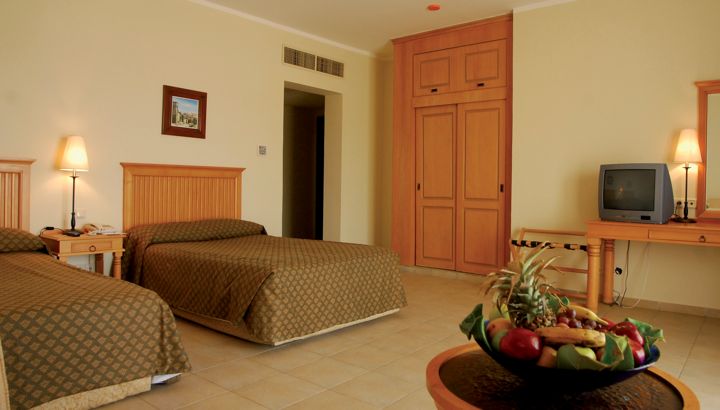 We checked into our rooms: the children shared the room beside us in a standard suite, while my husband and I opted for a sea-view room. We could hear the gentle ebb and flow of the waves just outside our window, and couldn't wait to see the sea from our terrace when we woke up the next morning. They were really hungry when we arrived, and although we were on holidays, the kids still wanted Chinese food! We enjoyed our meal and decided to check out the nightlife we had read the resort offered.
My twelve year old daughter isn't a fan of travelling with her parents, having reached the age that Mom and Dad are no longer cool enough to spend time with. She was dying for some freedom and really wanted to see the resorts mini disco. We carted our other two sons along with us, and enjoyed watching the kids be kids as they danced without reservation. My four year old son was thrilled by strobe lights and kid-friendly music.
We called it a night and lay our heads in luxury, falling asleep to the sound of the waves. When my husband and I awoke, we were amazed by the view from our terrace as we enjoyed our morning coffee. The sparkling green-blue sea was spectacular, the waves were calm, and the sand looked soft and inviting. We couldn't wait to explore!
We chose Sharm Resort Hotel for many reasons. We liked that it was family friendly, offering many things for the kids to do while we were out on our own adventures. We opted to drop off our two sons at the Maxi Kinder Club from Red Sea Hotels for part of the trip, where they made many friends! Meanwhile, my husband and I took our older daughter snorkelling. We travelled by jetties to Far Garden coral reef, not far from the resort, and witnessed tropical fish and colourful coral.
We felt safe enough at the resort to give our daughter a little bit of freedom and being the bookworm that she is she was easy to find by one of the pools, working on her tan and reading the most recent addition of Twilight. The younger kids were swimming in the kids' pool and having a blast on the waterslide, with the Maxi Kinder Club. While our kids were busy on their holiday, it gave my husband and I some time to have our own holiday.
We went to the beach and walked along the coast just enjoying each other's company. We are an active couple, and enjoyed the ability to go to the fitness centre, complete with a sauna, steam room and Jacuzzi. We even had enough time to make friends with other couples and play a game of water polo.
All in all, Sharm el-Sheikh was a wonderful vacation. There was plenty for the kids to do and see, and we even got time for ourselves (something you don't get a lot of when you have three kids!). We returned home to a mess of snow and rain, but nothing dampened our renewed and refreshed spirits.
…
Photo by womeos on Flickr