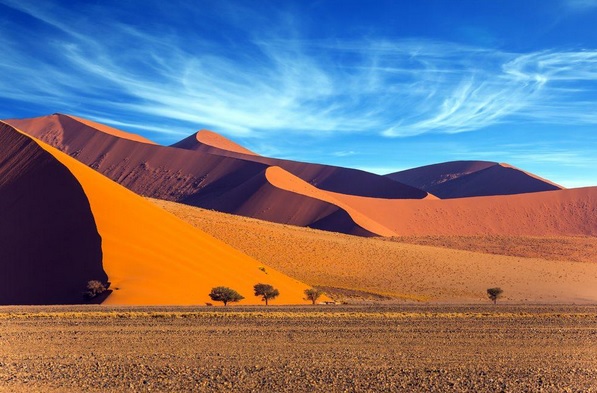 Namibia, often referred to as 'The Soul of Africa', is celebrated for its incredible natural beauty. This Southwest African country has some of the most varied and extreme environments in the world, from the desolate Skeleton Coast to the rolling dunes of the Sossuvlei.
Over the last few decades this proud nation has grown to become one of the most popular safari destinations on the entire African continent, rivalling Kenya and Tanzania. Every year thousands of adventure-seekers rock up on its shores to experience game drives, epic hikes, as well as a plethora of other fantastic activities.
With straightforward self-drive access, and a range of accommodation options to suit all tastes and budgets, Namibia's collection of national parks offers perhaps the best way to explore the country's extraordinary landscapes.
If you're considering booking a Namibia safari tour and you want to find out more about the national parks, read on below.
Etosha National Park
Although it may not be the biggest national park in the country, Etosha National Park is definitely the most famous; and this is one of the best spots in Namibia for viewing wildlife.
The park's diverse landscapes are home to an abundance of incredible animals including cheetahs, springbok, antelope, giraffes, and even endangered rhinos. A vast array of exotic bird species can also be spotted in this area.
The best time to visit Etosha is during the dry winter months (May-October). During this season the animals cluster around the remaining waterholes, making it much easier to spot them.
Owing to the growing popularity of Namibia self drive tours Etosha is packed full of all the amenities you need to experience the safari adventure of a lifetime. Well-maintained gravel roads can be found across the park, and there are a range of stunning accommodation options to choose from, including some that even boast swimming pools and private decking areas.
Skeleton Coast National Park
Next on the list we travel to Namibia's western coast where you'll find the eery and desolate Skeleton Coast National Park.
Covering an area that stretches over 500km you'll encounter a landscape featuring rugged canyons, rolling dunes and fog-entrenched shores. The name 'Skeleton' derives from the fact that over the centuries scores many ships have perished just off the coast, and today shipwrecks are still visible on the shorelines.
Despite the eery name, the area still boasts plenty of life. There are plenty of activities to enjoy here such as visiting the seals at Cape Cross. Cape Cross is home to a huge colony of these fascinating pinnipeds, over 200,000 in fact!
Away from the seals at Cape Cross you can also spot pink flamingos at Walvis Bay and enjoy several water-based activities, including kayaking.
Namib-Naukluft National Park
Sprawling across a vast expanse of close to 50,000sq km is Namib-Naukluft National Park, an area steeped in ancient history and geological wonders.
The National Park is home to the Namib desert, the oldest desert in the world. You can explore this desert on foot by following one of the many well-publicized hiking trails and private guided vehicle tours are also available.
Visitors to Namib-Naukluft National Park will also soon spot the mighty sand dunes of the Sossusvlei. This area is home to an array of these incredible natural constructs, including the towering Dune 45, so named because it sits 45km away from the Sesriem gate entrance.
Namib-Naukluft National Park is a photographer's paradise, every year scores of budding photographers travel to the area to capture some incredible snaps of the camel-thorn tree studded landscape. If you're visiting make you sure you bring a camera!
Bwabwata National Park
For our final entry we head to the north-eastern Zambezi region where you will find one of Namibia's newest national parks: Bwabwata.
Unlike the dry, arid landscapes that characterize Namib-Naukluft, in Bwabwata sandy dunes give way to lush vegetation and woodlands, as well as gushing rivers. If you're keen to spot elephants on your trip to Namibia, then this is the perfect place. Bwabwata is also home to large herds of antelope and buffalo.
In the wet summer months, you can spot hundreds of species of birds, including the incredibly cute rosy-faced love birds.
If you're planning to visit Bwabwata keep in mind that you will need a vehicle such as a 4×4 to access most of the park. If you're planning to stay in the area for a few days you'll find luxury accommodation on offer at places like Nambwa Tented Lodge.