Frankfurt Am Main, as the locals call it, is an especially good choice for a first-time traveler planning a trip to Europe. This youthful, thriving city is very accessible in terms of flights and language, and there are a wide range of hotels in Frankfurt to suit every taste and budget.
There's plenty to do and see once you've arrived, too. Since it's more of a business destination than a tourist mecca, Frankfurt is a little more low-key and far less expensive than cities like Berlin, London, or Paris. Here are a few reasons to consider Frankfurt, Germany as your gateway to international travel on your first trip to Europe.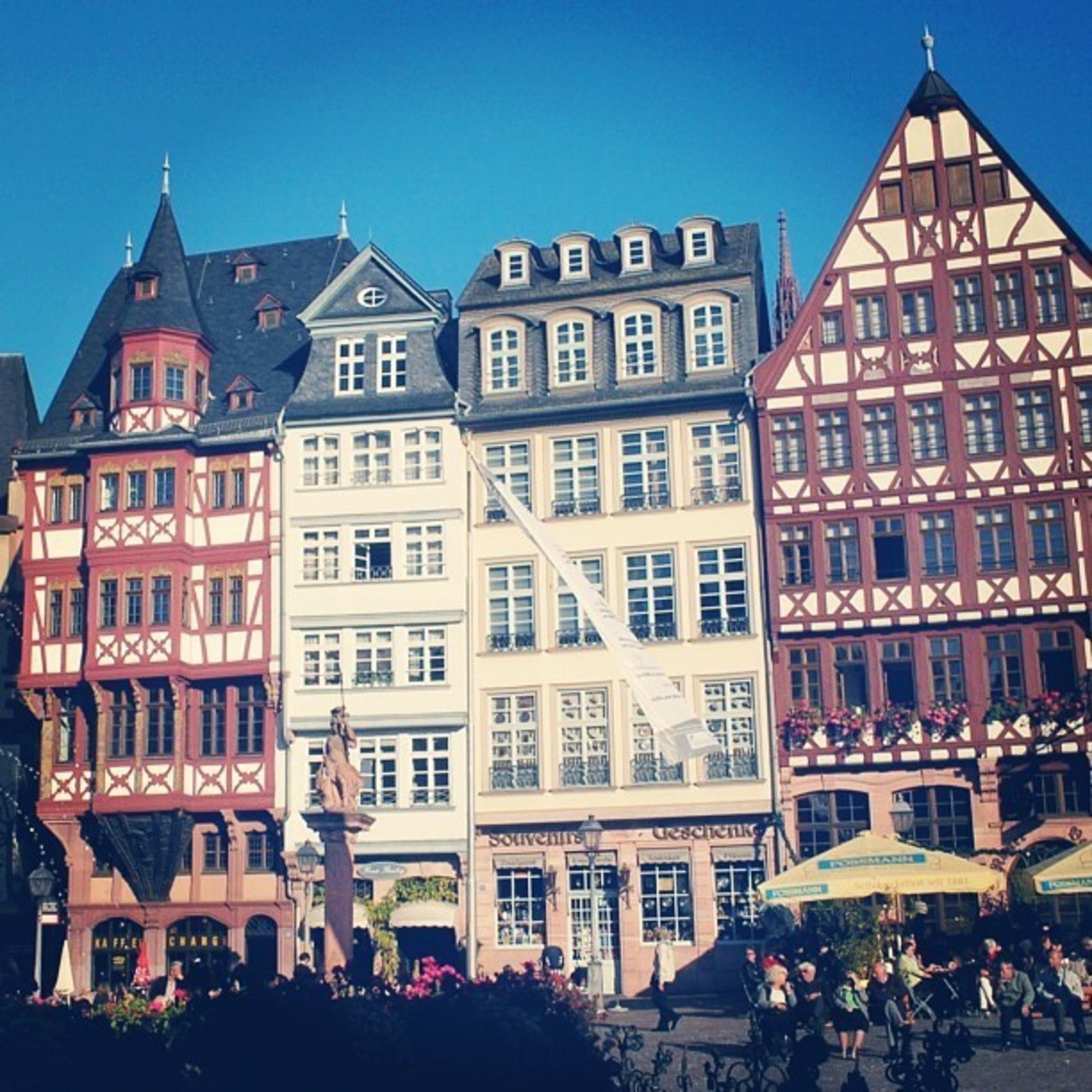 Photo by Diana Kaneva via Trover.com
Frankfurt Is Easily Accessible By Air
Flights to Frankfurt are plentiful, as this is the busiest airport in Germany and the third-busiest in Europe. More than 1,350 flights come and go from Frankfurt every day. The airport is a hub for Lufthansa but is also served by major U.S. carriers like American Airlines and United Airlines. Commuter trains and intercity trains stand ready at the airport to whisk you into the city.
Getting Around Without A Car Is Easy
While some travelers may dream of zooming down Germany's famous Autobahn at top speeds, others are intimidated by the idea of driving in a foreign country.  Unfamiliar traffic laws, metric measurements, and incomprehensible street signs add to the stress of navigating a new city, and many tourists would rather just give up and walk. So a metro area like Frankfurt, which is super easy to navigate without a car, is an especially welcome destination for beginners.
The public transportation system offers information in English, which is extremely helpful in navigating the extensive network of trains, buses, trams, and the underground U-Bahn. Frankfurt is very bike-friendly, so consider renting a bike or using the city's bike rental kiosks, which let you check out and return bikes from racks all over the city.
Sprechen Sie Englisch?
English is the international language of business in most of Europe. What does that mean? If a German and a Frenchman want to do business together, they will usually speak English as their common language. Since Frankfurt is a business metro with a large international population, English is widely spoken.
English-speaking options on ATM machines and public transportation timetables will make your life easier, and you can even find English-language books, movies, and church services in Frankfurt.
The City Is Surprisingly Affordable
For a major European destination, Frankfurt offers some surprisingly affordable hotels. Hundreds of Frankfurt hotel rooms are available for below $100. If you're a first-time international traveler, you might feel most comfortable in a familiar chain hotel, like the super-affordable Ramada Hotel Frankfurt Messe.
But don't overlook the quirky German boutique hotels for a lodging with more personality. Airbnb listings let you rent a room or apartment and live like a local — and having a kitchen could save you a fortune in restaurant expenses during your travels.
Another option is a local hostel; many offer private rooms as well as dorms, for a great price. Be sure to read plenty of reviews before you choose an apartment or hostel, but keep in mind that these options are quite safe and often become a very memorable part of your trip.
It's Easy To Find the Fun in Frankfurt
Once you've found your flight and booked your lodging, you can begin planning your sightseeing itinerary. The Main Tower, offering stunning views of the city, is a popular place to begin. Walking along the eclectic shops and restaurants of Berger Street will give you a great feel for life in Frankfurt.
Take the U-Bahn to the Merienplatz station and walk northward as far as the Bornheime Mitte station for a short Berger Street tour, or wear your walking shoes and spend a whole day on the Strasse Berger if you like.
A hop-on, hop-off bus is a great way to tour the city's many museums and attractions. The Senckenberg Natural History Museum and Staedel Museum of Art are very popular with visitors. Be sure to visit Romerberg, the historic center of Frankfurt, with buildings dating back to the 14th and 15th centuries.
The Main River Bridges offer breathtaking views of the Frankfurt skyline, which some say rivals Manhattan. Try the east bridges for the best views. Fill your remaining vacation days with long walks along the river, shopping excursions, cathedral visits, or day trips to the mountains and forests that surround the city. Use a website like Excursiopedia to quickly find tours and excursions to suit your interests.
Think You Don't Like German Food?
Think again. Germans, like Americans, love all sorts of ethnic and international foods. In Frankfurt, you can try as much local fare as you wish, or you can find sushi, Thai, Italian, Mediterranean, French, and other cuisines. The Fressgass (a word that translates roughly to "munching alley") is a great place to head for dinner.
The street, officially known as Grosse Bockenheimer Strasse, features a luscious assortment of cafes, restaurants, and delis. If you visit Frankfurt in late spring or early summer, you might catch the Fressgass Fest, an outdoor festival with live music, beer, and food stands.
Frankfurt Can Be Family Friendly
Although Frankfurt is a young city, full of restaurants and nightlife that appeal to youthful professionals, there are attractions for children and families as well. Parents will find a variety of family-friendly hotels in the area, and kids will enjoy Frankfurt's two zoos, Natural History Museum, Main Tower, and KinderMuseum.  
Avoid Frankfurt During Major Events
Since Frankfurt is an important business center, trade fairs are a local tradition that dates back to the 12th century. There are a few major conventions and events that drive up prices and make affordable hotel rooms very difficult to find. The Frankfurt Book Fair in Mid-October is a massive event that fills local hotels every year, while the Motor Show is hosted in Frankfurt in September in odd-numbered years.
The city of Frankfurt is accessible, affordable, and easy for first-time travelers. If you've always wanted to plan your own international travel to Europe, Frankfurt might just be the ideal place to begin. Do you have advice for travelers who are planning their first European trip, or for places to stay or visit in Frankfurt? Please share your tips in the comments below.