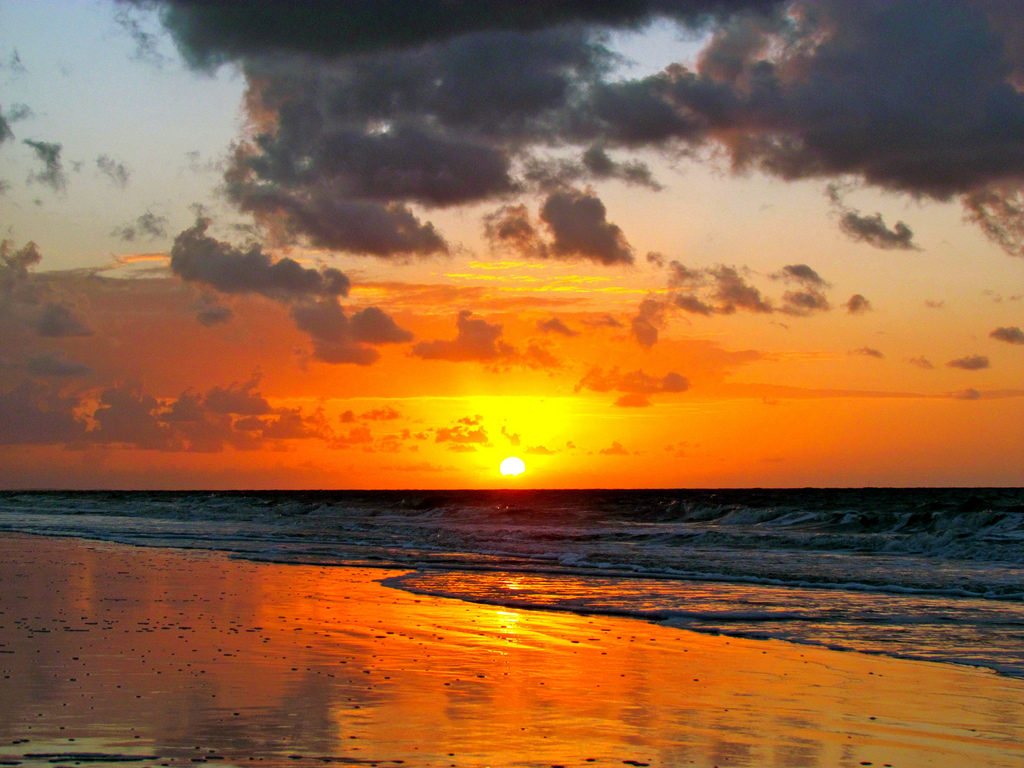 Island trips are high on the vacation list of travelers around the world. It's hard not to relax when you're sitting on the beach in a lounger sipping on a tropical drink watching the waves roll in. In the U.S. travelers spend millions on island vacations. The beach is the top destination for summer vacationers, and not surprisingly, swimming/water sports is one of the top summer vacation activities.
Each island offers a unique experience all its own. Some islands in the southern region of the United States are high-energy hot spots that attract visitors from all over the world while others are more low-key. If you want to take a laidback island vacation there are a number of islands in the southeast that meet the travel criteria.
Hilton Head Island, South Carolina
This small island town is just a stone's throw from Savannah, which brings in plenty of beach-loving travelers. The beaches are immaculate here as are the waterfront golf courses. If there's one thing that could draw you away from the beach in Hilton Head Island it's the restaurants. Indulge in seafood dishes that feature fresh caught main courses with a southern twist. You can work off the calories hiking through Pinckney Island National Wildlife Refuge or biking down one of the many nature trails.
Related: Island hopping in Vietnam
Topsail Island, North Carolina
Travel up the eastern coast and you'll find an array of quiet beach towns with an abundance of wildlife. The professionals at Access Realty specialize in island rentals on Topsail Island. They've noticed an uptick in tourism from visitors that want to unplug and unwind in an unspoiled area that isn't overly commercialized.
Sea Island, Georgia
If exclusivity is your thing, Sea Island, Georgia may be your next vacation spot. It's a private 5-star resort that has its own stretch of five miles of pristine beach. The meticulously maintained historic resort will keep you entertained with a huge pool, spa and golf course. Nature lovers will enjoy exploring the mix of forest, sea marshes and sandy beaches in the area. Certain times of year visitors can also get a glimpse of the sea turtle nest or the newly born hatchlings.
Dauphin Island, AL
Alabama isn't the first place that comes to mind when travelers plan an island vacation. However, Dauphin Island will change your mind. Just a few years ago Dauphin Island was rated the 7th best island in the U.S. It's known as a nature lover's paradise where visitors can explore the 164-acre Audubon Bird Sanctuary and Dauphin Island Sea Lab. If you do get the urge for an urban experience Mobile is just a short drive away.
St. George Island, FL
A little further up the Sunshine State, you'll get a taste of Southern hospitality and relaxing fun in the sun at St. George Island. The beach town isn't as bustling as Key West, but there's a good selection of entertainment both day and night. If you get tired of soaking up the sun head across the bridge to the historic town of Apalachicola for fine dining, craft brews and shopping.
Amelia Island, FL
Looking for a place with small-town, historic charm? About 30 miles from Jacksonville, Amelia Island is a refuge for beach comers that are looking to step back to a time when things moved a little slower. The island is surrounded by untouched natural habitats, but in the city center, you'll find a quaint downtown that hosts a number of festivals throughout the year.
Florida Keys
Key West is the type of place where you'd expect Jimmy Buffet to hang out. The tiny island at the end of the Florida Keys is actually closer to Cuba than Miami. It's the closest you're going to get to a St. Barts getaway in the U.S.
The island is known for its tropical vibe, famed strip of bars and restaurants on Duval Street and vibrant blue water that will make you feel like you should have brought your passport. After kicking back in Key West, keep traveling up Overseas Highway to visit other famed islands like Marathon, Longboat Key and Key Largo.
You might also enjoy: Dive in for a vacation of a lifetime