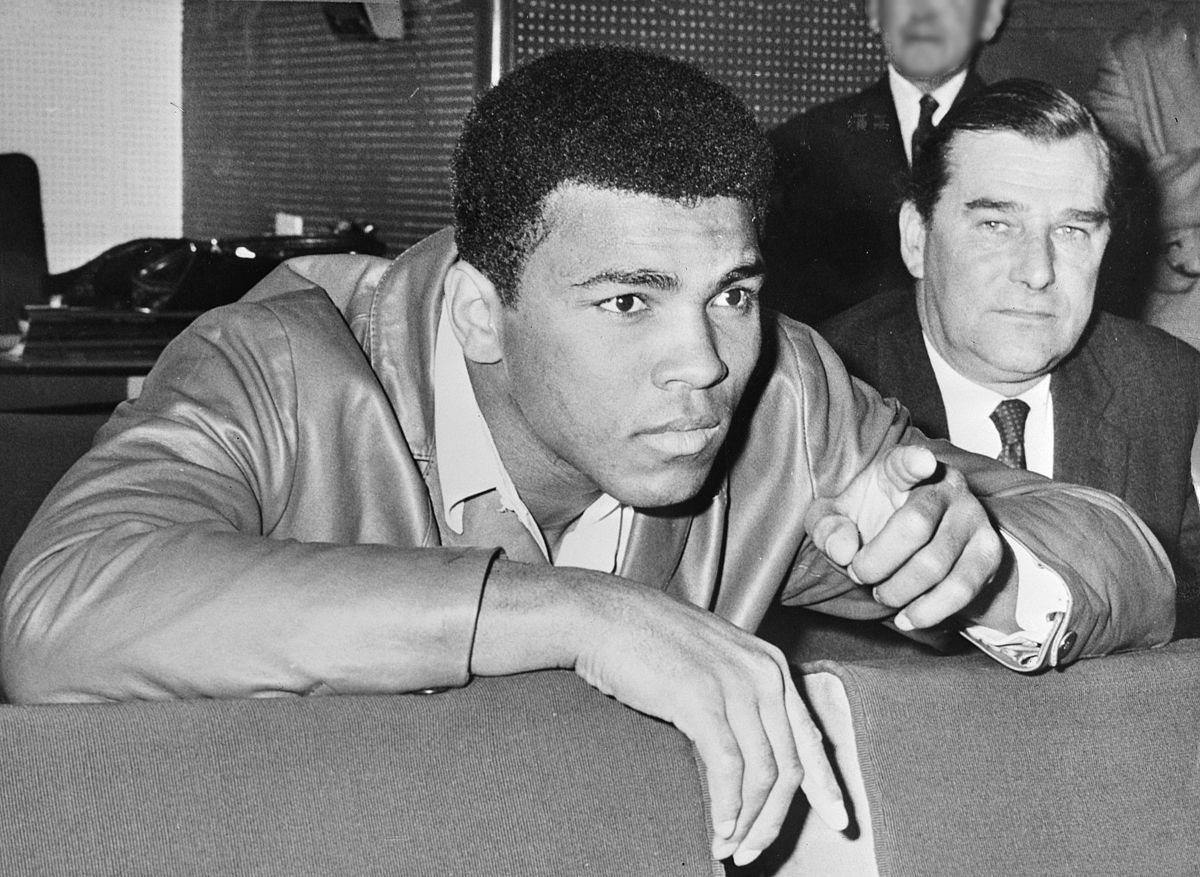 Photo by CC user http://www.gahetna.nl/ (Dutch National Archives)
Muhammed Ali vs George Foreman
Ali wasn't given much of a chance of regaining his title, against his younger, stronger adversary, but he always claimed to have a secret formula that would overcome Foreman's overwhelming strength.
In what was dubbed the "rope-a-dope" tactic, Ali soaked up everything the formidable Foreman could throw at him, continually hurling jibes at the Champion. By the eighth round, Foreman was out on his feet and Ali was there to pick up the pieces with a brutal knockout combination.
It still remains one of the biggest boxing upsets, with the fight itself viewed as a historic event in the history of ultimate sporting rivalries.
Jack Nicklaus vs Arnold Palmer vs Gary Player
During the 1960's, the world of golf was dominated by three men, Jack Nicklaus, Arnold Palmer and Gary Player. Palmer was the people's champion, Nicklaus was talented and determined and South African Player was golf's first international superstar.
By the time Nicklaus had won his 18th and last Major in 1986, he had been recognised as the greatest to ever pick up a club. Palmer finished as a seven-time major winner and Player won his ninth and final major at the 1978 Masters.
"The Big Three" amassed 375 professional tournament victories and since retiring, have become the best ambassadors their sport could ever have hoped for.
Serena Williams vs Venus Williams
It wouldn't be an overstatement to say that the Williams sisters have revolutionised women's tennis and their on-court rivalry has resulted in some of the best matches the sport has ever seen.
Since 1999, there have only been three seasons where a Williams sister hasn't won at least one Grand Slam. Serena has gone on to notch up 21 Grand Slam victories, putting her just one victory behind Steffi Graff on the all-time list. Venus has won eight Grand Slam titles, with five of those victories coming at Wimbledon.
Jose Mourinho vs Pep Guardiola
In 2010, Real Madrid announced that Jose Mourinho would take over as manager, with the main objective of toppling Pep Guardiola's all-conquering Barcelona.
Barca dismantled Real 5-0 in Mourinho's first El Classico, but he didn't wallow in that humiliation for too long, beating Barca in the Copa Del Rey final.
A mass brawl erupted during the 2011 Super Copa, where Mourinho was caught on camera poking Guardiola's assistant, Tito Villanova in the eye, during the fracas. Clearly there is animosity between the two as both look to establish themselves as the best managers of their generation.
Lewis Hamilton vs Nico Rosberg
There have been many big rivalries in Formula One down the years, but this is shaping up to be one of the biggest and most personal in recent history.
Despite their success as a team, there have been incidents between the two Mercedes drivers throughout the seasons and whispers that Rosberg has often been unhappy with the preferential treatment Hamilton had been enjoying since joining. After a particularly controversial Monaco Grand Prix, Hamilton claimed that Rosberg had deliberately tried to "screw him over".
The tables seem to have turned this season, with Rosberg taking victory in all of the first four races. However, Hamilton's recent win at Monaco shows that this year's title race and this rivalry with Rosberg is far from being finished.