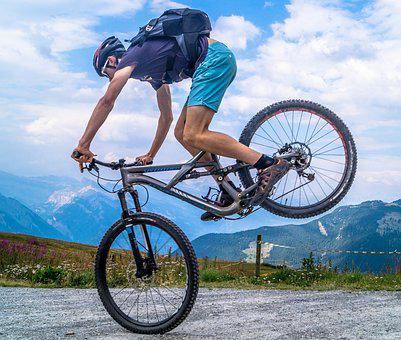 The mind of a cyclist
The avid cyclist is always pushing beyond limits and keeps going even when everything inside them says "no more"!! They appreciate the outdoors, nature and beauty. They are stimulated by adventure and unfazed by the challenge of tackling for example a difficult stunt.
Whether part of a cycling club, a riding group or a corporate team there is something to match each individual cyclist's preference and training goals. It is even possible for cyclists to have their gear custom-made to suit their needs.
A cyclist may ride for anything between a few hours up to 2 or 3-day excursions. Common pursuits include mountaineering, road cycling, touring, to urban cycling, water logged, ice, off the beaten track, or quiet winding country roads. The right type of clothing therefore plays an important role in the enjoyment of their sport. Clothing needs to be of superior quality and craftsmanship; it needs to be comfortable, breathable, and not least, colorful and stylish, suitable for all seasons and weather conditions.
The latest innovations in cycling apparel means there is a mountain of choice on the market. Long sleeved or legged apparel for winter months, short sleeves and cycling shorts for warmer weather, modern to classic designs with full zipper in the front, and a bright color palette. The latest in rainwear technology uses the eVent Direct Venting Light waterproof fabric. It is highly breathable and air permeable. Most professional cycling gear comes with UV protection of more than 50 and is very comfortable.
Top-to-Toe
Cycling apparel includes a well fitting helmet, gilet, jacket, tights, gloves, socks and footwear.
Movement. The fit has to be just right to allow better balance, easy manoeuvre over the handlebars and foot pedals. Lycra fabric is ideal for this type of sport because it has a built-in stretch to allow easy movement.
Management of body fluids. Cotton was clearly not made for the cyclist.  The Lycra fabrics are breathable to keep rain out whilst at the same time allowing sweat out.
Shock absorption. The padding for cycling shorts or tights is essential not only for the cyclist's comfort but also to provide shock absorption. Paddings come in a range of densities to reduce the impact of bumpy roads that gets through your saddle whilst cycling.
Safety is obviously an extremely important aspect to cycling. A well fitting helmet goes a long way as well as reflective tape in the side seams for easy visibility in low light.
Keeping the extremities warm in the winter and cool in the warmer months can be a challenge. Sport cycling socks are made out of fabrics that thin and sweat wicking, usually with a thicker layer on the sole for padding with insulating properties for colder climate.
More: Grandmother cycles 10,000 miles
Gloves serve two purposes, wiping off the sweat from your face with the padded area on the back of the gloves, as well as providing a firm grip on your handlebars. There are countless gloves on the market to choose from with varying insulation qualities to suit everyone.
Finally footwear. Stiff soled footwear with attachment points for cleats to clip into the pedals, held in place with Velcro or ratchet straps. There are various styles to choose from but the best are those with recessed cleats, which make them easier to walk in.
You might also enjoy: