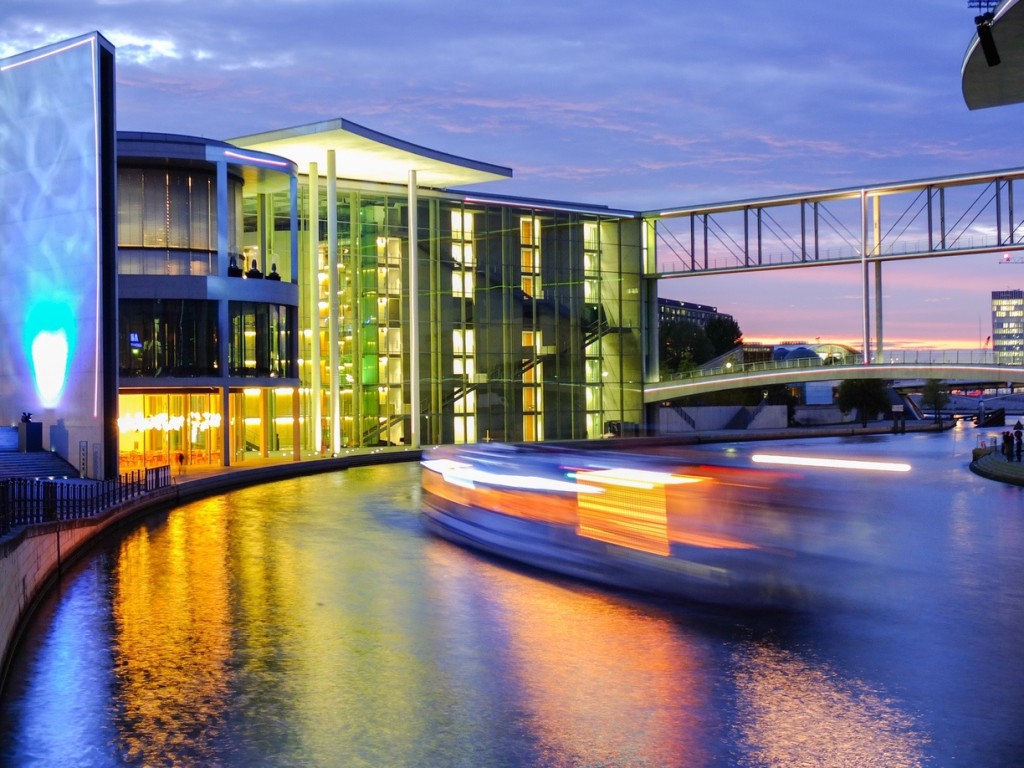 Photo by Jan Venter via Trover.com
Are you someone who hates traveling to cities and staying in conventional, cookie cutter high-rise hotels? The next time you're in Berlin, show your individuality by choosing one of these novel hotels instead.
nhow Hotel
Music fans, take note! The nhow Berlin is Germany's answer to the famous Riot House in West Hollywood. While there won't be any 1970s rock stars hanging around, a musical theme enhances your stay, punctuating all the decor. The second nhow property in Europe, this German property goes so far as to refer to itself as a lifestyle hotel. Even if you are not a music aficionado, you can still enjoy a breathtaking view of the Spree river.
Hotel Bikini
Don't let the name fool you. The view here has nothing to do with a beach. Instead, architects cleverly designed the Hotel Bikini Berlin to infuse every room with one of two panoramic sights. Half of the guests enjoy views overlooking the Berlin Zoological Garden. Think of it as Disney's Animal Kingdom Villas without all the mouse ears. The Berlin Zoo is the most visited one in all of Europe.
If you are not interested in looking out your hotel window to see a bunch of lions eyeing you hungrily, that's understandable. You should ask for the Breitscheidplatz instead. One of the most popular public squares in Berlin, the focal point of this area is Kaiser Wilhelm Memorial Church. This historical building still bears the damage caused by air strikes during World War II. The majesty of it will humble you.
Ackselhaus & Blue Home
These twin hotels embody the vision of If Acksel. He wanted to bring the world to Berlin in a tangible way. Tributes to Rome, Egypt, and China are on display in the rooms, which also mimic film sets in their design. It's the strangest hotel room you'll ever visit. 
Lux Eleven
Are you a history buff and a big fan of the Great War or post-World War II espionage? If so, the Lux Eleven in Berlin-Mitte provides a rare opportunity. Originally built in the 19th century, military personnel during World War I employed this place as a medical facility.
As if that were not enough, the KGB claimed the building in the 1940s. Their purpose was to keep tabs on East Berlin, a job they performed until the Great Wall fell in 1989. The next day, the KGB left the building and never went back. Since then, it has become a signature subculture building, repurposed as an unforgettable boutique hotel you have to visit when you're in Berlin.
MichelBerger
The urban hipster look is not exclusive to North America. Designer Werner Aisslinger celebrates the flea market look through a series of themed rooms, including a chalet and library plus dorm room furnishings throughout the building. If you are looking for a hostel feel during your visit but don't want to share a room, MichelBerger is the perfect choice.
If you're going to Berlin, don't waste your time at a corporate place that has a rewards program. Explore the culture of Germany the right way by staying at one of the many creative hotels in Berlin.