Frankfurt is Germany's banking capital and home of the country's biggest airport. Visitors on a longer stop-over or travelling for business can experience this bustling city from its fun side. Amazing clubs, chilled-out bars and fantastic restaurants guarantee a varied leisure time!   
Germany is a great holiday destination – flights from the US to Germany …
… take off every day from almost all major cities in the United States. No matter where you are – in New York, Seattle or San Francisco. More than 30 airports in the USA can be your starting point to this very diverse European country. And the flights are – depending from where you take off – pretty affordable. Many website, as for example cheapflights.com, offer you an amazing variety of flight connections. From the Big Apple, you may book airplane ticket starting from around 450 to 800 USD. For example, a flight from Boston to Frankfurt will cost you around 520 USD, which is quite a bargain. Once you are there, get ready for some great beers, funny English accents and loads of fantastic things to see and do!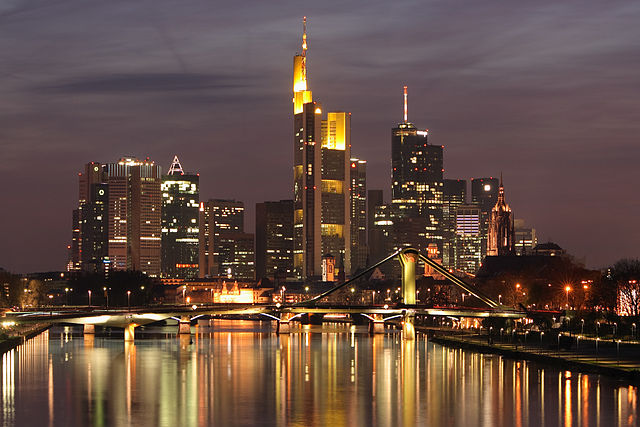 Frankfurt's night life – stylish, funky, legendary!
"Mainhattan" – the insider name for Frankfurt – is known for its colourful and lively nightlife. Check out one of Germany's most legendary bars! The "Batschkapp" is definitely the #1 place to see cool live performances from any branch of the music tree. Frankfurt – together with Berlin – is also known as the birth place of the German electronic music culture and is home to some of the most exciting clubs in the entire country. If you are looking for a stylish and relaxed location, where you may simply lay and chill in a modern and trendy ambience, FFM has plenty of options. One of many examples is the "Apartment". This upscale venue is an absolute hot spot! The same goes for the "Gibson", which is a favourite playground for many big names from the German music and movie industry. In 2009, another cult club opened its doors: The "Club Travolta" and is today considered one of the most exclusive places in town. Here, the urban disco culture is not only celebrated, but actually lived in all its colourful splendour.  
Enjoying Frankfurt alone is only half the fun!
Even the most fantastic culinary delights in amazing gourmet temples like the Asian restaurant "Moriki" or the fancy "King Kamehameha Suite" are just half the fun, if you enjoy them by yourself. The same goes for a bottle of champagne in a club or a king size bed in your hotel suite! Talking about classy hotels, the high-class design hotel "Roomer" in Frankfurt is definitely worth a visit. Many gentlemen who visit FFM for business enhance their stay with the company of a stunning lady, whom they book via elite escort agencies. The best VIP escort service available in Frankfurt is offered by some of the most exclusive agencies in Germany. However, all of those who cannot (or don't want to) pay the pretty impressive amount for such an exclusive date, will certainly have no problem meeting some great people while roaming the clubs and bars in Frankfurt.
Germany is truly a fantastic place to visit, and Frankfurt is just one of many amazing cites to see!