With warm sands, beautiful waters and plenty of colorful culture surrounding you, Southeast Asia has so many places to hold the destination wedding of your dreams. Plenty of great venues will satisfy romantic, religious, fun or fancy wedding plans. Gather your friends and celebrate at one of these beautiful spots:
Sentosa, Singapore
As the only beachfront resort in Singapore, Shangri-La's Rosa Sentosa Resort and Spa has everything you can imagine for your special day. Wedding packages can include things like a specially decorated Ang Bao box (wedding money), Chinese tea, complimentary beer and wine, specialty menus created by the chefs, and champagne fountains. Overlook the South China Sea as you dine, dance and celebrate. Then head off to your private villa for the honeymoon and a delicious dinner in your room. Follow it up with breakfast in bed as you start your first day of married life.
Redang Island, Malaysia
The Isle of Redang off the coast of Malaysia is a dreamy destination for your beach wedding. The Taaras Beach and Spa Resort can give you a wedding to match your dreams. Intimate Blessing Ceremonies are performed just before sunset on one of the most stunning beaches in Malaysia. Some of the bluest water on Earth is found in the bay which is ringed with glacier white sands. Everything from flowers to the cocktail feast are handled by the staff. You can relax and enjoy your wedding without all of the headaches.
Koh Samui, Thailand
Koh Samui is one of the popular beach wedding destinations. Beach Republic is the perfect spot to celebrate your big day. Imagine riding in on a jewel-bedecked elephant to your ceremony. Flower-topped tiki torches, rose-petal pathways and a bamboo arch twined with tropical blossoms all add to that paradise-on-Earth feeling. Beach Republic offers many wedding packages. Incorporate fireworks, pool-side receptions, Thai dresses and suits and many more add-on options. If you choose a beach wedding in Thailand, you may also want to hold a Thai culture wedding, too. Buddhist monks, a long drum parade with Thai dancers and plenty of music will make this a day you will not forget.
Phú Quốc Island, Vietnam
Phu Quoc Island is lush and lovely with a rainforest in the center and laced with untouched beaches around the edges. Enjoy getting married on the beach with unspoiled beauty all around you. Small weddings of up to 40 guest can be accommodated at La Veranda Resort on this island. Have an intimate wedding dinner on the beach with elegant tables and chairs set up for you and your guests. Tiki torches will provide ambient lighting and the sea will provide the music. Since Phu Quoc is famous for peppers and fish sauce, chefs will prepare you dishes with these and other fresh local ingredients. Take your honeymoon in the quiet ocean view villa surrounded by luxury. Step from your loungers on the terrace into your private garden. Watch the sunset over the ocean from your bed.
Boracay Island, Philippines
Boracay Beach in the Philippines is a one-stop wedding destination. Say your vows, honeymoon and celebrate – all in one island stop. The District Boracay can handle everything from the officiant to the honeymoon suite. A basic wedding package includes things like beach permit for setting up on the beach, a sound system, wedding reception and even the cake. You can customize with add-on's to make the package as unique as the sands under your feet. Lanterns, strings of colorful flags, and sea-shell streamers will make your ceremony feel truly Philippine-style.
Bali, Indonesia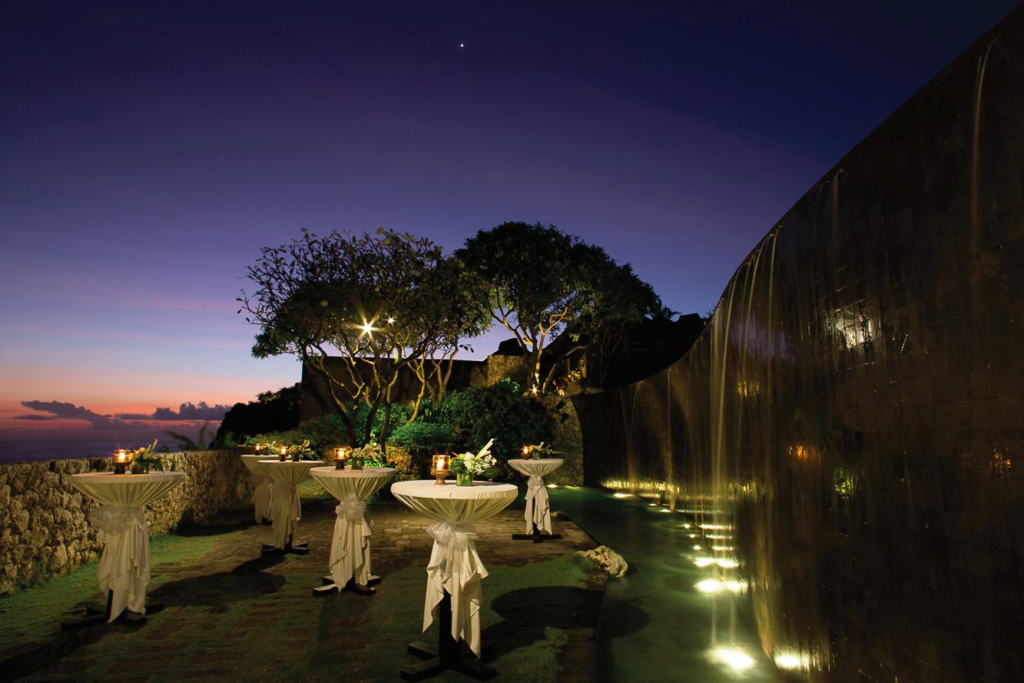 Walk on water on your big day with a wedding at Bulgari Hotel and Resort in Bali, Indonesia. Using a unique wedding pathway and podium in the middle of an infinity pool, the Water Wedding, overlooks the Indian Ocean and gives the happy couple the illusion of walking on water. After your ceremony, snuggle up in your premier ocean view villa room or do some shopping for arts and crafts, visit the beach, or visit the spa. You will love your first days as Mr. and Mrs. when you start your marriage in Bali.
Ngwe Saung, Myanmar
Mind-blowing backdrops of the Bay of Bengal are just the beginnings when you plan your beach wedding in Myanmar. Ngwe Saung Beach has over 600 km of white sand so it's easy to find your perfect spot. Ngwe Saung Yacht Club & Resort can help you handle all of the details for your wedding day. Slip-covered chairs on the beach or tables and chairs with linens and candles. Loads of flowers, traditional or modern ceremonies and stunning photo opportunities will make this wedding live in your memories forever. After the ceremony walk out (during low tide) to Lover's Island for a little quiet time together in this romantic setting.
Make sure your beach wedding is everything you expect it to be. Friendly people are just waiting to help you plan, set-up and enjoy your wedding. Come and experience the unique beauty on the beaches of Southeast Asia.